"The Wild Side"
Fri 14th Jan - Sun Mar 6th
The new exhibitions are 'The Wild Side' (Members and Artists) and 'Everything Blue' by Lorraine Lintern (Ceramicist) and Elsbeth Gartly-Strassmann (Artist) in The Solo Space. An Opening Night will be held on Fri 21st Jan, with a dinner available.
'The Wild Side' - both exhibitions didn't get up in 2021 so with the artists waiting in the wings, we're having another go. While we have had to deal with a wild and free-ranging organism causing havoc in our world, many of us have still had the privilege of seeing nature, being in nature with all its beauty and tempestuousness. We hoped artists would get in touch with the wild side of life in all its forms – inner and outer and the artworks reflect this theme.
Everything Blue: Lorraine Lintern is a well known ceramicist from Uki who, after 25 years of potting and experimenting with clays and glazes, trying out new ideas based on her 5 years of traditional training at both East Sydney & Penrith Technical Colleges, still finds new and inventive methods with which to experiment. More recently she has been working with cobalt & lithium resulting in some very bright and solid Blue glazes - a very unique combination. Forever fascinated with the 'Alchemy of Chemicals' she is eager to experiment with different combinations.
Elsbeth Gartly-Strassmann a Steiner School teacher, trained and taught in New Zealand then later in Bowral and Adelaide is now one of our local artists. Originally Elsbeth worked extensively with Fibre Art - spinning & weaving, but in her more recent years her concentration has been primarily with colour. Now well developed, using her favoured medium of Pastels, she has chosen her latest works for this exhibition.
The Blue Knob Hall Gallery & Café are open Thurs, Fri, Sun from 10am -3pm, and Sat 8.30am – 3pm when the Blue Knob Community Market is on.
For any further information regarding Gallery and Cafe please call us 0266897449
or email: bkhgallery(at)harbourisp.net.au
Blue Knob Hall Gallery 719 Blue Knob Road, Lillian Rock NSW 2480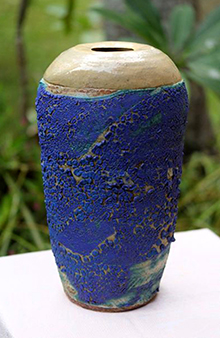 Agapantha Blue by Lorraine Lintern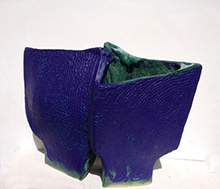 Delia by Lorraine Lintern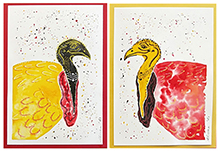 Thelma and Louise by Amanda Doran