BLUE KNOB HALL GALLERY & CAFE
Current Exhibition
Thurs Aug 18th -
Less is More
with
Time's Almost Up by Amelia (Milly) de Zwart
in the Solo Space
View exhibition
Both exhibitions will run concurrently from Thurs 18th Aug with an afternoon Opening event 2:30-4:30pm Sun 21st August
*** BLUE KNOB CAFE ***
Please check Blue Knob Café Facebook page for what's on the menu each day, or phone after 10am for info or to place an order.
Cafe Hours:
Thursday 10am – 3pm
Friday 10am – 3pm
Saturday 8:30am - 3pm
Sunday 10am - 3pm& CAFE' HOURS
BLUE KNOB COMMUNITY MARKET
The Market is still operating
Every Saturday 8.30am - 12 noon. A fabulous range of fruit, veggies, seedlings, woodfired breads and delicious pastries, as well as local home-made produce.
Sustainability is the theme ..... Grow local, buy local.
Read more here .....

BLUE KNOB CERAMIC STUDIO
The studio is open on Thursdays – Saturdays 10-3pm.
Fee structure
Cost: $25 Joining fee and $10 to renew each year. This covers membership of the Ceramic Studio and the Gallery, with all the benefits of both.
Sessions: 2hrs/week for 8 weeks is $60 plus cost of materials and firings.
Please contact the Gallery if you would like more information or to be put on our contact list.
Read more about the Ceramic Studio here
MOORE WORKSHOP SPACE
There are currently no workshops programmed
For details of past workshops, please visit our workshop page here
BLUE KNOB CHOIR
To be advised
BLUE KNOB HALL GALLERY ARTIST'S and FRIENDS LUNCH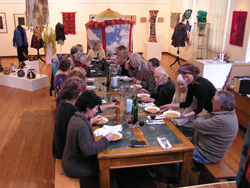 Future dates to be advised
Blue Knob Hall Gallery 719 Blue Knob Road, Lillian Rock NSW 2480
Phone: (02) 66897449
bkhgallery@harbourisp.net.au