"Sacred Landscapes"
Sun May 1st - Sat June 18th
The 'Sacred Landscapes' exhibition is finally up and running at Blue Knob Hall Gallery. Due to having to reschedule dates, this has been long in the waiting.
Sacred Landscapes as a theme, was initiated by the Blue Knob Writers Group and was enthusiastically welcomed when they approached the Gallery about launching their anthology and exhibiting artworks—some from the anthology and some specially commissioned—in The Solo Space. This collaboration with the members and artists of the Gallery means the whole exhibition has taken on the theme of Sacred Landscapes. It has added a depth and coherency to the works and their mediums, and has resulted in some wide-ranging interpretations of the theme.
The Blue Knob Writers Group formed in early 2020 and has developed into a collection of writers from all walks of life, both aspiring and published. There has been a sense of excitement and anticipation as we are keen to see how connected we are as artists to the minds of the writers; as at the time of writing neither the Blue Knob Writers Group nor the artists of the Gallery have seen or read the other's work. Copies of the anthology will also be available for $10.
We have many sacred places: outside, in the landscape, with its flora and fauna; and inside, in our homes, which are full of personal sacred spaces, and the many precious things that inhabit them. This exhibition is particularly poignant as so many in our region have lost so much that is sacred to them, their families and friends. The artists exhibiting have been offered the opportunity to donate the proceeds of the sale of artwork to a charity of their choice.
The Opening, along with the book launch was held for these exhibitions on Sunday 1st May, 2022.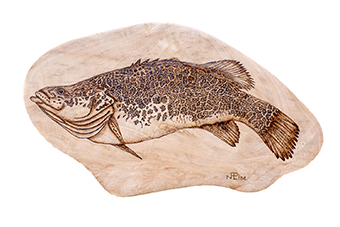 Eastern Freshwater Codfish (Pyrograph) by Neil Plim
The Blue Knob Hall Gallery & Café are open Thurs, Fri, Sun from 10am -3pm, and Sat 8.30am – 3pm when the Blue Knob Community Market is on.
For any further information regarding Gallery and Cafe please call us 0266897449
or email: bkhgallery(at)harbourisp.net.au
Blue Knob Hall Gallery 719 Blue Knob Road, Lillian Rock NSW 2480