Every Saturday 8.30am - 12 noon.
Since the middle of 2010, the Blue Knob Community Market has been meeting in the grounds of the Blue Knob Hall Gallery every Saturday morning, rain or shine. We are a small market, focusing on local, fresh produce and artisan-made prepared foods and crafts, along with a few surprises-
Many of our stallholders live just a stone's throw away, and only sell at this market. Along with regulars selling local produce and ferments, seedlings for your garden and seasonal fruits, food to take away and eat there (including vegan options), we have occasional stallholders including second-hand books, custom fishing lures (and cedar heart-shaped pendants as well), and even a monthly stall of ceramics from the studio behind the Gallery. Central to the market as well is "The BackYarders"- a place where shoppers can bring in their own bounty to be sold free of commission.
It is a market with a slow pace, just the place to find out what is what among the locals. Occasional festivals and talks in the Moore Workshop Space add to the richness of the community.
Find out more about the market on our FaceBook Page:
https://www.facebook.com/blueknobcfm/
Contact email: blueknobcm@gmail.com
The market is every Saturday from 8:30 to noon, rain or shine. We are always glad to see you.
Sustainability is the theme ..... Grow local, buy local.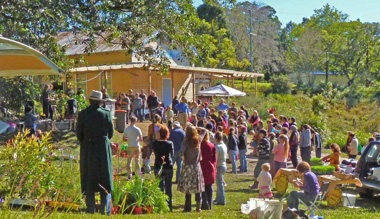 Blue Knob Hall Gallery 719 Blue Knob Road, Lillian Rock NSW 2480
Phone: (02) 66897449
Open Thursday - Sunday 10:00am - 4:00pm