"Robin Moore 1/5/25 - 29/6/18

Written by Jeni Kendell & Paul Tait

On hearing of the passing of Robin Moore there was a collective sigh of "dear dear Robin", a person of grace, kindness, generosity, creativity, dignity, wisdom and love.
She lived and died well and until the end was concerned about others and for her daughter Sally while she tended her in her last days. As her artist father before her, who died at his easel at age 97 – Robin drove to Blue Knob Gallery the day before her stroke, smiled, talked with friends and finished her last ceramic piece with Heather in the Ceramic Studio.
An only child of Bob and Ruth, Robin was born in Chicago, coming to Australia during the Depression in 1927. They lived simply on a farm with Bob's sister near Stanthorpe finally moving to Gordon, Sydney. Teased at Ravenswood School because of her "homemade" uniform her mother said: "Tell those girls your mother has been a Silent Film director in Hollywood and your father is an artist. We CREATE value, we do not buy it."
Robin studied Science, graduated then taught Biology at Sydney University. In 1951 she married architect Tony Moore making her own wedding dress. They had 3 children, built an avant-garde house in North Sydney, meeting people like Ivor and Anthea Moffatt who are still dear friends 60 years later.
Tony died young and when Robin's daughter Sally asked her to come to Nimbin to visit, she did, ending up buying a farm on Robb Road in 1977. She invited artists and musicians to live there and she grew things - trees, grapevines, and people; when she and the families wanted to own it equally and create shares Robin happily did this and they became Robb Road Community.
She grew many of her veggies, lived in a simple house and ate well. She had contact with people of all ages; children were born and grew up there. On hearing of Robin's death Paedor Stirling said "she was in his DNA". She was an environmentalist, protesting at Terania Creek, researching 24D and 245T and its terrible health effect on children living on Webster's Creek. She was frugal and would put her car into neutral to coast down the woopdidoos to The Channon to save fuel! During her driving test at 80yrs, she did the same thing and was told: "If you're going to do that I'm going to fail you."
Blue Knob Hall was famous after the Aquarius Festival and stayed that way until bikers crashed a New Year's Eve party in the 80s. Robin was on the Hall Committee when the building became very run down. In 2000 she and fellow artists made a decision to turn it into an Art Gallery. The DA was for a Café, Workshop Space, Artist's Studio and Farmers Market. Volunteers built this vision, with Robin making hundreds of morning teas. When money ran out to build Compost Toilets she put in her own. The vision was largely due to Robin and what a community asset it has become over 18 years. She remained on the BKH Committee nearly 40 years. Robin began selling her famous Robbie Pies and biscuits at the Farmers Market raising over $20,000. What a woman, mother, grandmother, great grandmother, friend; an inspiration and role model to so many of us.
Robin Moore will remain in our hearts as "dear dear Robin" precious beyond words.
This is a poem she wrote for her solo exhibition 'Robin Moore' at Blue Knob Hall Gallery this year.
'Connections': In every breath, swirl atoms that have passed through the lungs of Buddha, Christ and Stalin. Every drop of water has been a cloud, a flood, an ocean, and has surged as blood through the veins of humankind. All earthly things are jewels, born of stardust, bright children of the sky. All connect along the thread of being, in ever changing forms, but never die.
Blue Knob Hall Gallery 719 Blue Knob Road, Lillian Rock NSW 2480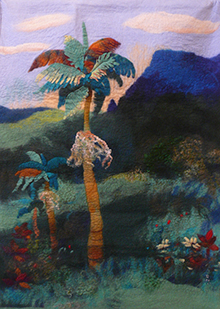 'Bangalow Bride' by Robin Moore
- Felt hanging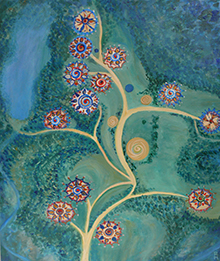 'Community' by Robin Moore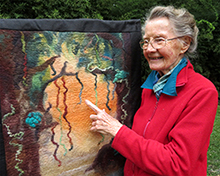 Robin Moore, Artist