"Artist's Choice"
Fri 24th November - end of January 2018
Thursday to Sunday from 10am

The last exhibition for 2017 is our annual show called 'The Artist's Choice'.
Blue Knob Hall Gallery runs themed exhibitions throughout the year that inspire and stimulate the artists to work to a certain theme. The Artist's Choice has no theme and often brings new art works out of the artist's collections that make for an interesting and diverse exhibition.
This year is no exception with an artist named Papillon who is exhibiting for the first time in the area. He has installed a piece that would not normally be found in a gallery. The pieces are usually installed in the forest where he plans and executes installations from manmade materials that are then photographed to capture the different light and conditions over a period of time. These ephemeral images are often other-worldly, and it is a delight to have this work in the Gallery.
This is an eclectic exhibition with ceramics from some of the Blue Knob Ceramic studio potters, paintings, photographs, fabric & fibre. This exhibition runs through to Feb 4th 2018.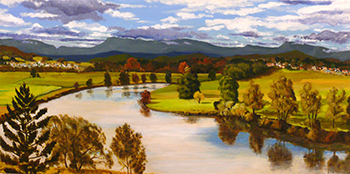 'View from Tweed Gallery' by Rodney Brown
Blue Knob Hall Gallery 719 Blue Knob Road, Lillian Rock NSW 2480